A Home Away From Home
Families who stay at RMH BC are uprooted from 210 different communities throughout BC and the Yukon. Faced with major medical treatment far from their homes and support networks, these families need a place to stay that is affordable, safe and welcoming, and that allows them to focus on caring for their sick child and siblings.
By raising funds for RMH BC, you keep families close when it matters most, just steps from the hospital. More than just a place to stay, you make possible precious family moments such as bedtime stories, playing outside, and home-cooked meals.
Read more about your impact on BC and Yukon families.
Meet Aeson
From Penticton, BC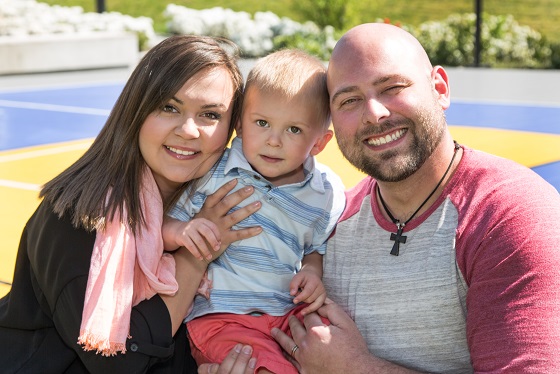 Giving back is important to the Moen family, to say thanks for the life-saving treatment their son received, and thanks for the home away from home that helped them to stay close to him during his recovery.
When Aeson was diagnosed with cancer at just 13 months, the Moens had to leave their Penticton home for treatment in Vancouver. For the first few months, they moved from hotel to hotel, living out of a suitcase. When the new Ronald McDonald House opened in July 2014, they were finally able to find a comfortable place to call home.
"I missed being normal," said Aeson's mom Ana, speaking of her time in Vancouver. Everyday routines (even something as simple as waking up and making breakfast) were disrupted by hospital appointments and difficult radiation and chemotherapy treatments. Ronald McDonald House helped to provide normalcy: a place to cook a meal and meet other families who understood. With the other families nearby, they were no longer alone. "They really kept me sane," said Ana.
For Aeson, the best part about Ronald McDonald House is, of course, the slide! Now 5, Aeson is happy, healthy, and only comes back to Vancouver for check-ups.
Register to fundraise today or donate to a participant and keep a family like Aeson's close.